How do you position your company as market leader? If you fail to see the wood for the trees among competitors, Wiersema and Treacy's business strategy model provides a solid base to excel in your core value through a well-chosen value strategy. As soon as you extend this value consistently throughout your entire business operation, you will find yourself one step ahead of the competition.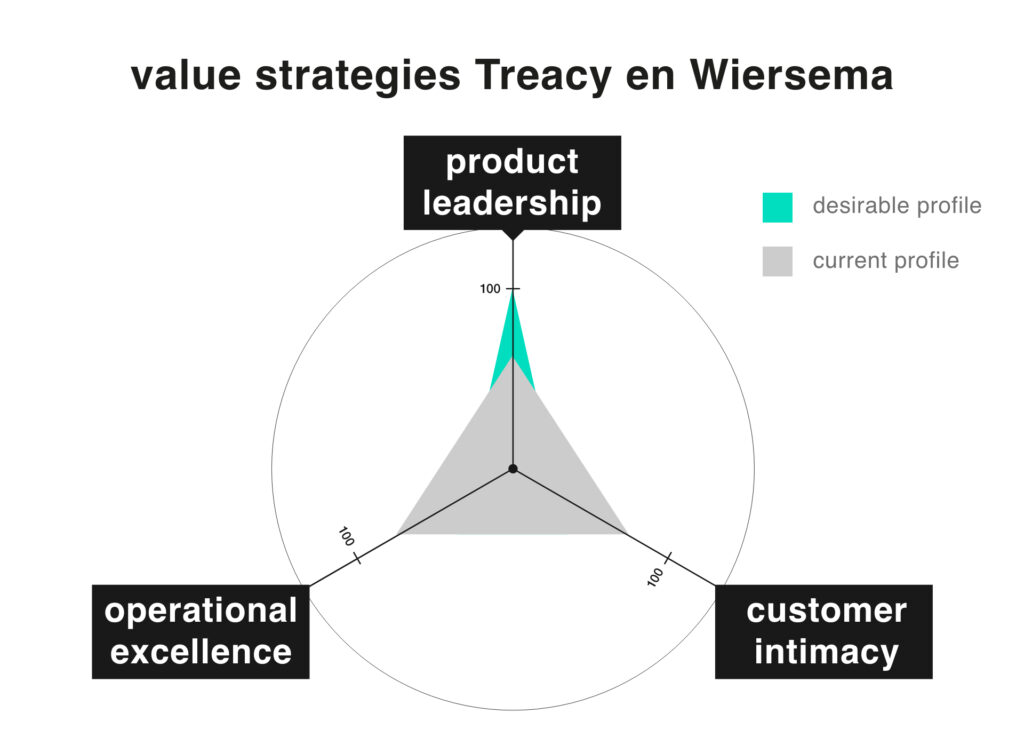 What is the business strategy of Wiersema and Treacy?
Wiersema and Treacy's business strategy model is a marketing model that consists of three different value disciplines: product leadership, operational excellence and customer intimacy. The model provides an important tool for making choices about your company's strategy and positioning. At the same time, the tool is quite useful to distinguish your company from the market competition. In many cases this business strategy model has proved to be indispensable in B2B marketing plans.
According to Wiersema and Treacy, a company should always focus on one of the value strategies below:
This value strategy puts the product at the centre. Here, it is most important that your company delivers excellent products or services to the consumer.
In this value strategy, your unique customer processes take centre stage. You may focus, for example, on the ease with which customers can purchase a product or request your services.
In this value strategy, all eyes are on the consumer. Here, you may focus on consumer service, consumer (experience) and a long-term relationship with your customer.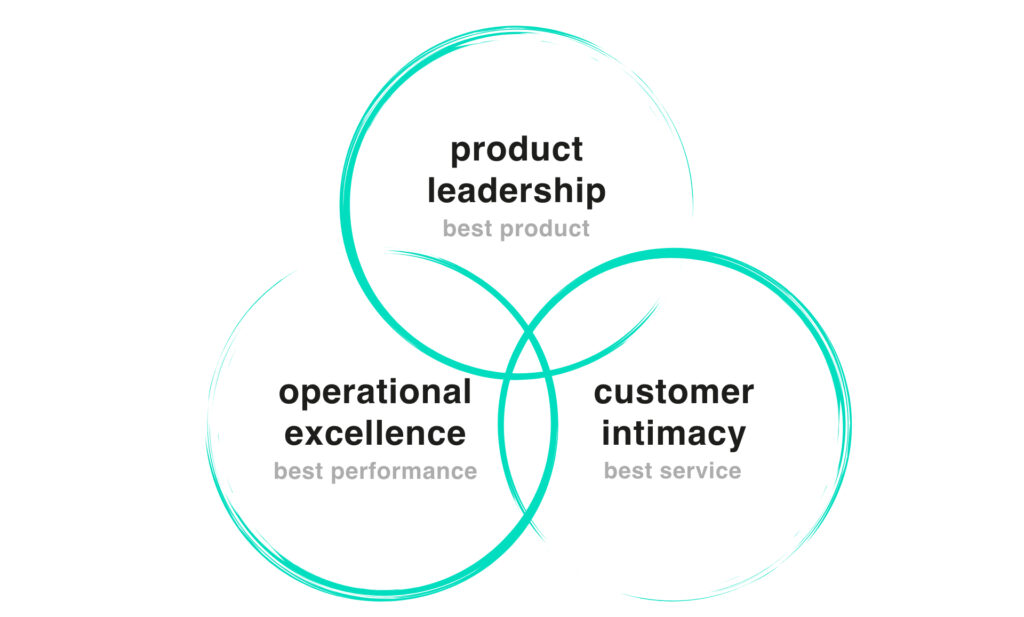 How can you implement this strategy in your company?
To apply Wiersema and Treacy's business strategy model, you must first compare your current business profile with your desired future profile. Within your marketing plan, use the model to analyse your company's current situation, both internally and externally. Based on that analysis, you can then:
Describe your current strategy and situation
Carry out market research and adjust your strategy based on that research
Choose one value proposition your company wants to focus on
Align your company's positioning with the chosen value. It is crucial that this positioning also reflects your company's mission and vision.
Translate the chosen value into all operational business processes, management systems, company structures and corporate culture
According to Wiersema and Treacy's model, a company creates value for its consumers by responding to their wishes and needs. Here, 'value' stands for choosing the strategic foundation of your company. More specifically, it means that the strategy focuses on everything to do with customer comfort. By focusing more on the needs of the customers, your company will be offering the kind of optimum service that will have consumers choose you over the competition.
The model states that if a company truly concentrates on one of the three strategies, be it product leadership, operational excellence, or customer intimacy, it is capable of becoming the market leader. There is one condition, however: do not completely discard the other two strategies but merely prioritise the chosen value strategy over the other two.
You may be thinking that in order to compete in today's market, companies have to meet all of its different customer expectations. But it is exactly by narrowing your business focus somewhat that you take the opportunity to fully focus on delivering superior customer value in line with one of the three value disciplines. By maximising on this, market leaders excel in delivering one unique value and thus fulfilling the most important customer need.
Putting one and two together
In short, your company must excel in one of Wiersema and Treacy's three value strategies in order to efficiently set yourself apart from the competition. This will enable you to move towards market leadership. Adapt your choice of value strategy to what the customer wants and needs and become the best in class for that value. It is important, however, to not forget about the other two values. Compete on the standards and keep those in balance.
If this blog post inspired you, contact comma and discover together your company's best path to achieve market leadership. Fly high & enjoy the ride!