Operational excellence stands for optimised processes, low costs and unrivalled ease of use. Does this apply to your company? Read on to find out how you can bring these characteristics into the limelight. Standing out with operational excellence will improve your company's market position.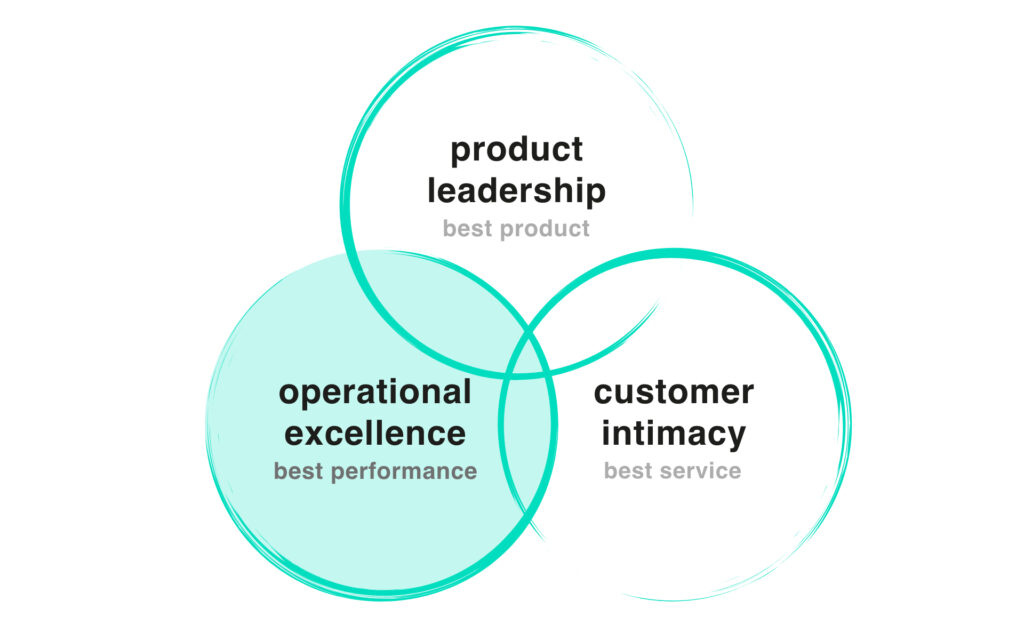 What is operational excellence?
Operational excellence is one of the value strategies in the well-known business strategy model by Wiersema and Treacy. The model consists of three different value strategies: operational excellence, product leadership and customer intimacy. If your company deliberately focuses on one of these three value strategies, you will create unique added value and make yourself stand out from the competition.
Operational excellence means excelling in an optimised and efficient execution of all your business processes. In doing so, it is important that your company works hard to keep improving all operational processes all the time. By optimising, your company can keep costs as low as possible, to the benefit of the customer: your company markets products at the lowest price possible.
How to implement operational excellence in your company
This value strategy is aimed at achieving cost leadership in the market. The emphasis here is on automating production processes and work procedures to reduce costs and increase customer convenience. The operational excellence strategy is perfect for companies with:
Large product stock volumes
Transaction-oriented and standardised production
Little need for differentiation, as is the case within saturated and standardised markets
Fast delivery times
A keen eye on consumer convenience
Quality products at a low price
As with all of Wiersema and Treacy's value strategies, operational excellence is about your company wanting to excel in customer service. It is not specifically aimed at reducing your company's own costs but at lowering the price for the customer. A good understanding of the customer's needs and price perception is important. These factors can be determined through market research. The focus lies with smooth and efficient business processes where products are delivered on time and at the right price.

Colruyt, Belgian champion in operational excellence's business strategy
With their tag line promise "The lowest price, always", Colruyt is Belgium's quintessential example of a cost leader. How does Colruyt position itself, basing itself on the 4 Ps of the marketing mix?
Promotion is the most visible communication tool in the marketing mix. Colruyt manages to combine all the tools in the marketing mix to create a synergetic effect of cost leader.
Colruyt offers consumers a range of its own cheaper Everyday and Boni brands, in addition to the familiar brand products.
Colruyt is known for its 'red prices'. These guarantee the lowest price of each product offered. If a product is found or reported cheaper elsewhere, Colruyt immediately adjusts their shop prices.
Colruyt supermarket have been designed soberly, with functionality in mind, so that customers can shop quickly and smoothly. The efficient cash register system allows staff to serve customers quickly at checkout. Colruyt also offers free tasting samples in their supermarkets. Additional typical Colruyt features are coin-lock free shopping trolleys, the economical LED lighting and simple shelves.
Operational excellence as value strategy of low-cost airlines
Pursuing operational excellence is quite prevalent in the aviation sector today. Airlines focusing on low-budget travel such as Easyjet, Ryanair and Vueling often opt for this business strategy. They save on as many areas as possible, such as in-flight service. The customers pay additional fees for meals, television screens, a seat reservation in the plane or hold luggage, allowing low-cost airlines to charge very low prices for tickets.
Today, competitive pressure is increasingly raising the bar on quality, reliability, speed and cost reductions. On the other hand, companies have more and more opportunities to improve their processes and to excel in this value strategy. And so can you! Does your company tick all the boxes?
Do you want to catapult your company into the market? Do not hesitate and contact comma, brand strategists.